Normal Vs. Not Normal Aging
What is normal, and when should we be concerned?
If thinking and memory problems arise, can they be reversed? Yes!
Find out how at this enlightening presentation where I will dive into the causes of symptoms and what you can do to improve them, as well as how to know if they're signs of something more serious.
Wednesday, November 30
at 2PM
Aspire Senior Living – 150 Aspire Ln, Oshkosh 
Free Event | Open the the Public
Complimentary light meal and beverages will be served.
RSVP: Call Home Instead at (920) 966-1220 or
Aspire Senior Living at (920) 289-3887
In-Person Dementia Care Partner Support Series
This 5-week series is designed for people caring for someone living with dementia.
Mondays
April 3 – May 1, 2023
at 9:30AM – 11AM
$75 per person
Held at the Ashwaubenon Community Center (900 Anderson Dr, Green Bay)
90-min Sessions Include
Video clips featuring Teepa Snow
Interactive activities and discussions
Post-session resources
Weekly Topics
Understanding and accepting Dementia

Common brain and sensory changes

Person-centered problem solving

Supportive techniques to reduce distress
Please Know
This is a series and each session builds upon the previous one. It is best to attend all 5 sessions.
Attendees will be asked to keep anything they hear confidential.
These are examples of past conferences, lectures, trainings, and events I have presented at.
Contact me if you are interested in learning more or setting up a presentation.
Unlock The Key To
Positive Dementia Care
Ready to take the next step?
Email me and tell me briefly about your situation and what you're seeking help with. I will reach out with ways in which I can help you achieve your dementia care goals.

Disclaimer: I am certified to implement the teachings and trainings about dementia of Teepa Snow and the Positive Approach to Care® (PAC). While based on the educational content from Teepa, and inspired by my Certification, views or opinions expressed, and additional content offered here, are representative of me, independent of the PAC organization.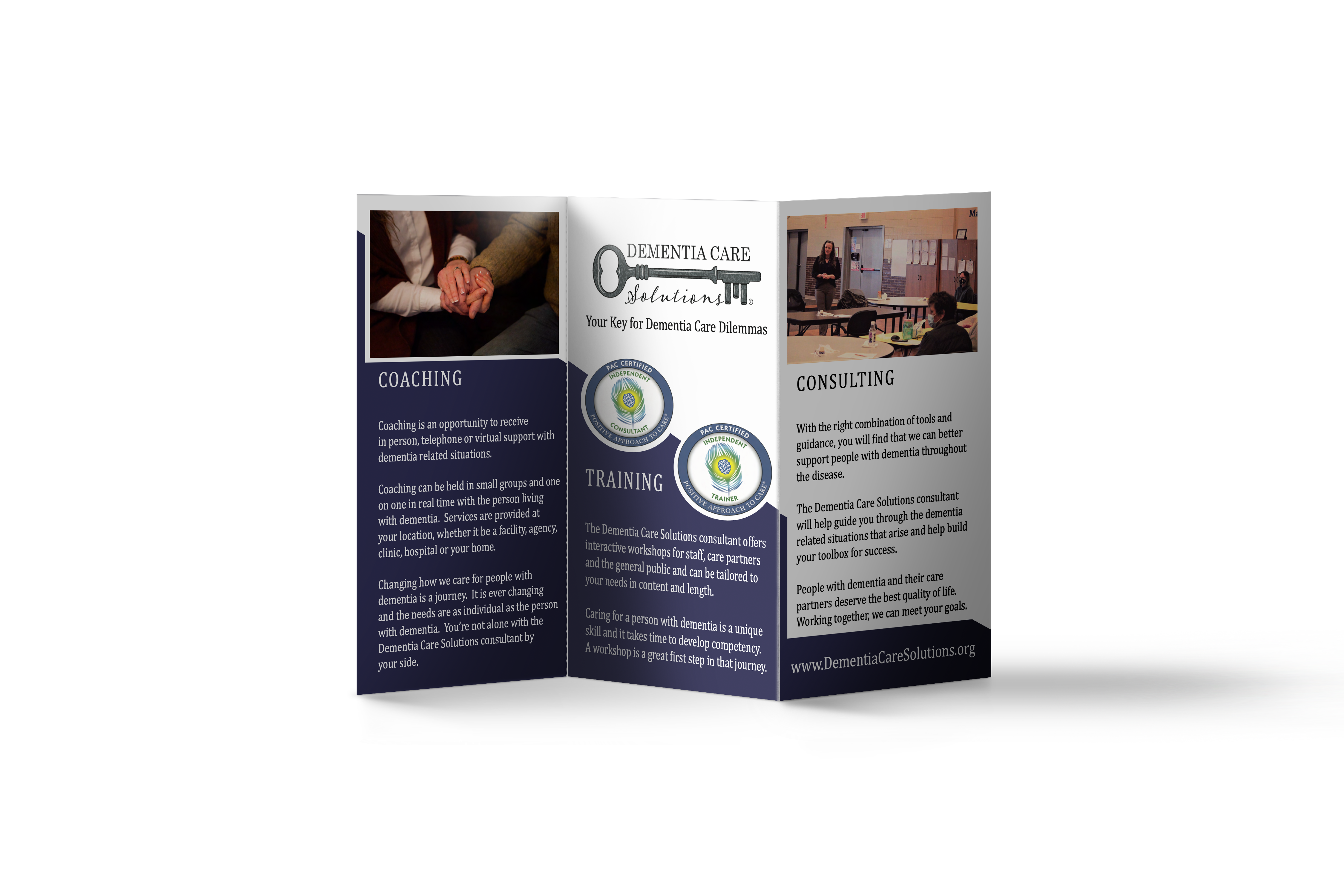 Want to learn more?
Download My Brochure!